Healthy Diet and Nutrition Tips for Women
Healthy Diet and Nutrition Tips for Women – A balanced diet is the basis of health, such as men, women should enjoy different types of foods such as whole grains, fruits, vegetables, healthy fats, low fat milk and lean proteins but women need special nutrients. it occurs. During menstruation, pregnancy, breastfeeding and menopause, the nutritional needs of women vary, the fertility of a woman means that its nutritional needs are very different. Healthy food is the best way to keep your body healthy when you take the right and all the nutrients in your diet. nutritional deficiencies are common, especially women. Good nutrition means eating a wide variety of foods every day.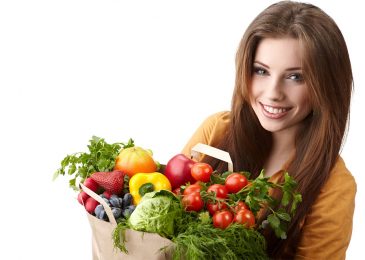 Healthy Guideline –
Shake 3 meals and 2 snacks per day in your diet (if you are in stress then take special snacks)
Include proteins in each food (eg – fish, meat, eggs, walnuts, legumes, nuts, peas, soy products etc.)
Include vegetables in every meal, especially organic green and non-starchy vegetables.

Choose foods that provide more 

potassium, dietary fiber, calcium,  iron, folic acid and vitamin D. These foods include vegetables, fruits, whole grains, and milk and milk products and nuts.
Three servings of low-fat or fat-free dairy products including low-fat or fat-free milk, yogurt or cottage cheese, fortified soy beverages
Include healthy fats in your diet, especially with omega-3 fatty acids (walnuts, eggs, flaxseeds etc.).
Avoid soft drinks (diet and regular), fruit juices, junk foods and artificial sweeteners and save sweets for special occasions
Avoid alcohol.
The M

ost Nutrients in Your Diet

Vitamin A – This antioxidant enhances the immune system, improves eyesight, reduces the risk of heart disease and can slow aging of the skin.

Vitamin B – The Eight B vitamins help in metabolism, muscular tone and sharp brain maintenance. The most important B-9 (folic acid) for young women, which protects the red blood cells and the defects of cancer birth.

Vitamin C –  It is also called ascorbic acid. It helps in filling the wound and helps in the formation of red blood cells in your body. Very important for iron absorption in the body. Vitamin C is a powerful antioxidant that helps in maintaining skin and tissue health.

Vitamin D – Bone growth and development If you do not get enough Vitamin D during your teen years, you may be at risk of osteoporosis. Osteoporosis is the development of weak bones, which can easily break down over time.

High protein for Muscle – Protein is one of the most important components of a woman's diet. Proteins for your bones, muscles and overall health are also required. The average adult woman needs 45 grams of protein. A good source of protein like dairy, fish, beans and legumes, eggs and poultry, soy products, quinoa.

Essential Fats for Good Health – Essential fatty acids and rich foods containing antioxidants help in maintaining skin moisture, essential fatty acids are rich in omega 3 and antioxidant rich foods help fight against free radicals.
Include meals like Chia seeds, Flex Seeds, Oily Fish such as Sardine, Tuna and Salmon. Fruit like Avocados, walnut and Tomatoes are also very good for skin.

Calcium – Calcium is a mineral that gives strength to your bones. Calcium is essential to help in the formation of many functions of your body, such as strong bones and teeth, and it also helps to control heartbeat, blood clotting, clot blood and nerve impulses. As an age, calcium plays an important role in fighting osteoporosis. Calcium is essential for women through every phase of life.

Iron – Iron is a mineral which is essential for red blood cells to transport oxygen to the rest of the body. It is the main component of hemoglobin, allowing red blood cells to transport oxygen throughout the body. It plays a major role in cell growth and differentiation, and develops new cells, hormones, neurotransmitters and amino acids. Women need more iron than men, which includes menstruation.