Diet Plan for Gallstones – Gallbladder stone is the condition When fluid forms stones in the gallbladder. Well, gallstones contain limps of fatty acids that become hard and solid. Sometimes, small and few stones are formed and its pain is unbearable. Moreover, 2 in 4 people are suffering from gallstone as per the updated status. This can easily remove with the help of the Diet Plan for Gallstones. Gallbladder Stone is a very common health problem. Plus, risk of forming gallstone is increasing with the increasing age. And mostly, adults and the upper age people are suffering from it.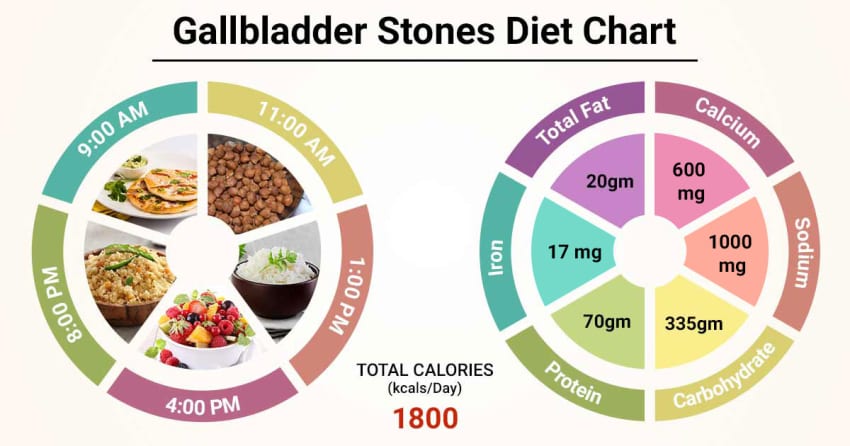 If you are suffering from the gallstone's pain and are not able to treat it then you can consult the nutritionist. Dietitian gives you a healthy diet plan for the Gallbladder Stone that can help you to eliminate the gallstones. For effective results,  it is important to follow the diet plan strictly, and also you have to avoid all fats and fast foods. Dietitian Priyanka is also a top Dietitian in Chandigarh and having the best experience to treat Gallstone patients. You can consult her to treat it. Here are some conditions that increase the gallstone risk factor
Obesity
Rapid weight loss.
Pregnancy
smoking
Diabetes
Intake of an unhealthy diet or the high diet fat
Certain medicines consumption
Harmonic effects
Tips to reduce the risk of Gallstones
By eating high protein vegetables such as beans and pulses.
You can increase the fiber intake to treat gallstone issues.
Dry nuts are also helpful to remove gallstones.
Dietary calcium is also very beneficial to remove the gallstone
Vitamin C is helpful to flesh out the stones.
Coffee is considered an excellent drink to consume during gallstone.
You can also consume a moderate amount of alcohol too.
Diet Plan for Gallstones
To flesh out the Gallstone, it is must to follow the below mentioned dietary points. These dietary tips are helpful to remove gallbladder stones without any surgery.
Your diet should include plenty of fruits and vegetables. You should eat at least consume 2 bowl vegetables and 2 bowl fruits every day.
Drink plenty of water. Aim to drink 3 to 4 liters water every day.
Avoid eating fruits and vegetables that contain seeds.
Add low-fat dairy products in your daily diet. Try to intake these products in 3 meals a day.
Meat, fish, eggs, cheese, beans, and pulses are rich sources of protein. Add these in your diet plan of Gallstone.
Say no to unsaturated fats because this can trigger the gallbladder stone pain.
Always take a high fiber diet that helps to remove the gallbladder stone via urine. High fiber diets are fruits, vegetables, oats, wholegrain items, bread, rice, and pasta, etc.
Try to eat fat in only one meal.
You can also intake herbal teas or green tea.
Foods to Avoid in Diet Plan of Gallbladder Stone
The below mention foods cause gallbladder pain and also increase the risk to form more gallbladder stones.
High-Fat Dairy
Oil Fat fish
Fatty Meats
White flour products
Avocado
Butter Processed Meat
Sodas
Sugary Deserts
Conclusion
Gallbladder Stone pain is the worst. So, avoid those foods that trigger it. Always intake the high fiber food that helps to pass the gall stone through urine. And, consume 3 -4 liters water to eliminate the gallstone. Moreover, warm water and herbal teas also helpful to break out the gallstone. Well, you need not for the operation to remove it. Diet Plan for the Gallstone is enough to eliminate it. You can also consult the best dietitian for it. Eat Nutrition! Stay Healthy!