How Cinnamon Helps For Weight Loss – Cinnamon is a spice that is highly rich in antioxidants and other beneficial compounds. This spice is made from the inner bark of the Cinnamomum tree. Also, this is highly helpful in weight loss, and if you are searching How Cinnamon Helps For Weight Loss then you have landed on the right page. Here we give you all the information regarding Cinnamon.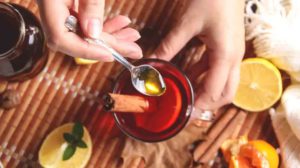 Let's talk about Cinnamon, it is high in fiber, and also helps to reduce food cravings by promoting a feeling of satiety as well as fullness. Some research suggests that this helps support blood sugar control, reduce inflammation, and protect against heart disease. It is great for weight loss and if you are consuming it on a daily basis then this is helpful in lowering belly fat. According to the study, it aids in improving the metabolic rate which is further helpful in weight loss. You should drink this water for weight loss on an empty stomach in the early morning. Empty stomach cinnamon water helps to boost your metabolism and burn fat.
What are the Amazing Health Benefits of Cinnamon?
It contains powerful medicinal properties
It is loaded with antioxidants
This may have anti-inflammatory properties
This could protect against heart disease
It could improve sensitivity to insulin
It helps lower blood sugar levels
Cinnamon has beneficial effects on neurodegenerative diseases
It protects against cancer
This stop bacterial and fungal infections
Cinnamon may have anti-viral properties
What are the Side Effects of Cinnamon?
This is safe to eat in small to moderate amounts but if you are eating this too much then this may cause health problems because this contains a high amount of a compound which is called coumarin. Following are the possible side effects of eating too much cinnamon are given below:
It may cause liver damage
This may increase the risk of cancer
It causes mouth sores
This may cause low blood sugar
Cinnamon may cause breathing problems
This may interact with certain medications
How Cinnamon Helps For Weight Loss
As we all agree that maintaining a fit and healthy body is very necessary if you wish to lead a healthy life ahead. Also, excess weight is one of the major causes of several diseases that can be dangerous for your life. Cinnamon water helps to boost metabolism as well as promotes fat burning. Apart from this, cinnamon reduces appetite and craving and helps to control the consumption of unhealthy foods. Moreover, it aids in the digestion of fats and carbohydrates, stopping these nutrients from being stored as body fat. When combined with a healthy diet and exercise this can be a very highly effective way to lose weight.
Cinnamon water help with weight loss in the following ways:
First of all, this helps to break down the fat cells in your body and flush them out
If you drink this water regularly then it speeds up your metabolism and suppresses your appetite
Cinnamon water has metabolism-boosting properties that help the body burn fat more effectively
It helps to regulate blood sugar levels, which can stop cravings and hunger pangs
Cinnamon And Coffee
This is one of the Best Ways To Use Cinnamon For Weight Loss. This combination of Cinnamon And Caffeine works amazingly to shed those extra inches.
Benefits of Drinking Cinnamon Tea:
Fights against Fungal And Bacterial Infections
Boosts Immunity
Prevents Against Cancer
Natural Remedy For Diabetes
Reduces Bad Cholesterol Levels
Helps in Weight Loss
Cinnamon And Water
It is one of the best ways to reduce tummy fat by drinking a glass of Cinnamon Water For Weight Loss in the morning. The water allows you to break down the fat cells in your body and flush them out. If you drink it every day then this helps to speed up your metabolism and suppress your appetite.
Bitter Gourd Or Bottle Gourd Juice And Cinnamon
It is very necessary to keep yourself hydrated all day. The combination of Bitter Gourd and Bottle Gourd juice is amazing for weight loss and Cinnamon Help You Lose Belly Fat.
Lemon, Honey, And Cinnamon
It is one of the best ways of losing weight because honey suppresses your appetite. When you consume a few calories then it helps to lose weight quickly. Lemon is helpful in increasing the metabolic rate of your body and it shed extra kilos. So, this combination is great for weight loss.
Conclusion
Here, we give you all the information related to How Cinnamon Helps For Weight Loss. As we know, it is known for its flavor and due to its medicinal properties, it is beneficial in weight loss. If you wish to shed those extra kilos then add this to your diet.
Top Related Searches