How To Get In Shape At Home – Spending lots of money in the membership of gym is not only the way to get back in shape, a great workout with a balanced diet is also possible with the comfort of your own house. If you are also the person who spends a lot on gyms that here we have the best tips about how to get in shape at home. You can also contact Priyanka Diet Clinic who will give you the best tips about getting back in shape at home. Her clinic is located in Chandigarh but she also provides her services online in different states and cities of India.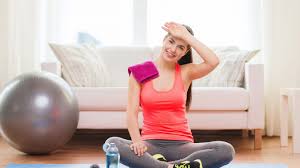 Obesity has become the serious problem worldwide. If you are also the one who is suffering from this problem then no need to get worried. Connect yourself with Dietitian Priyanka as she is the leading dietitian who also provides her services online. She can give you the best health tips to get fit and slim at your own home.
How To Get In Shape At Home
When it comes to getting fit then eating healthily plays an important role. Here are the best ways to get back in shape at home:
Cut Out Refined Foods And Fast Foods
Refined foods are horrid for the health along with that they are not good when it comes to getting back in shape. So you should eat fresh foods over boxed or packaged ones. Along with that cook your food whenever you get time. These small changes will result in an immediate drop in bodyweight.
Eat Multiple, Preplanned, Small Meals
Opt to eat multiple small meals and ditch the three large meals a day. It keeps your metabolism high and a frenzied hunger a bay when you eat in small meals. If you will preplan your meals then that will helps you to make smart diet decisions. Even you can avoid the situations where you find yourself munching all the way through making dinner.
Make A Plan To Eat Healthy
Try to eat a balanced diet which is rich in fresh vegetables, fruits, and whole grains. You can consume a moderate amount of proteins like fish, meat beans, eggs; and milk products. Try to minimize the intake of high-fat and sugary food. Keep few things in the mind that
Do not obsess over caloric intake.
Try to eat fresh foods and fruits instead of processed ones to feel energetic and light all over the day.
Figure Out When Is The Best Time To Exercise
It's important to make a routine for exercise because regular exercise plus a balanced diet is the key to get the beautiful body shape. So make exercise a habit. You can do it in the morning so that you can feel energetic all over the day. Rotate exercises you do daily. For example, you can do cardio on Monday, Wednesday and Friday, and resistance exercises on Tuesday, Thursday and Saturday.
Can Do A Home Workout
You can do a home workout in which you can do warm up, dynamic stretching, include a cardiovascular segment, do resistance exercises, stretch, and many more.
These are some simple ways to get a slim fit body at home. You can contact Nutritionist Priyanka who can guide you in the best possible way. Her meal plan includes all the essential vitamins and nutrients which are required by the body. Feel free to contact us on any query.
Conclusion
So now can get the slim fit without spending much money in the gym as we have given here all the information about how to get in shape at home. Nutritionist Priyanka is one of the best diet consultants in her field. She has the experience of more than 5 years in Nutrition Solution Industry. So what are you thinking now? Immediately connect yourself with her and get the best tips for a slim fit body. In case of any further query about weight loss, visit our official website.