Health Benefits Of black pepper
Black pepper is used in many dishes as a spice throughout the world. It is used extensively during cold and wintry weather and helps fight respiratory problems.  A pinch of black pepper is a spice that has many health benefits. It also helps in promoting weight loss and helping digestion. It is believed that this amazing spice prevents cancer because black pepper detoxifies the body. Black pepper releases hydrochloric acid in the stomach, which helps in cleaning the intestines. This prevents the occurrence of a normal cold. Black pepper is used to combat skin decomposition, skin deformity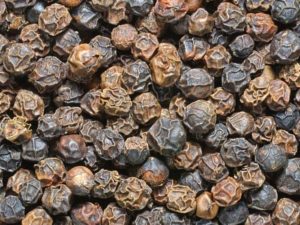 Pepper is a nourishing spice filled with many minerals and vitamins. In addition to Vitamin A, Vitamin E, Vitamin K, Vitamin C, and Vitamin B6, it contains Riboflavin, Thiamine, Niacin, Sodium, Potassium, Folate, and choline. This is an extraordinary amount of nutrition for a spice.
Benefits-
It helps improves brain functions and helps enhance memory.
It helps the body digest food. It helps prevent the gas production of intestines and stimulates sweating and urine, which helps in the removal of toxins from the body.
This helps the body absorb more nutrients than other foods.
It stimulates circulation and helps by providing more oxygen and nutrients to the skin. Due to antibacterial and anti-inflammatory properties, they help protect skin from acne-like infection.