Benefits Of Dry Fruits For Weight Loss – Stop Googling "Benefits Of Dry Fruits For Weight Loss" now! You have come to the right place already because here we give you all the information related to dry fruits and their benefits. Dry Fruits are rich in nutrients and have a variety of medicinal properties. They are small in size but they are high in minerals and proteins. Every healthcare expert recommends dry fruits in our diet to keep us healthy and fit. These come in various varieties like raisins, cashew nuts, almonds, pistachios, walnuts, dates, plums, and many more.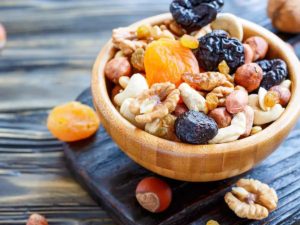 In current times, more and more individuals are becoming health conscious. Also, they are willing to choose a healthier diet. Maintaining a healthy body weight is not only about looking good but also staying fit. Being overweight can lead to several health issues like cardiovascular diseases, Type 2 diabetes, diseases related to inflammation, kidney problems, liver problems, and many more. Furthermore, being overweight issue can also hamper your confidence as well as lead to low self-esteem, depression, and anxiety. We understand shedding the extra kilos is very difficult especially when your body has a low metabolism. So, today we decided we will help you and give you the List Of Dry Fruits With Their Health Benefits.
Amazing Health Benefits of Dry Fruits
As we all know dry fruits help our bodies in several ways. The following are benefits of Dry Fruits For Weight Loss And Better Health are given below:
Boosts immunity
Helps to lose weight
Keeps your skin healthy and wrinkle-free
Fight to prevent cancer
Maintain a healthy heart
Healthy bones
Fight against stress and depression
Fight anemia and boost hemoglobin
Top Benefits Of Dry Fruits For Weight Loss
Dry fruits are heightened in protein, vitamins, minerals, and dietary fiber, creating them a tasty and healthy snack. If you want to stay healthy the n health experts suggest eating dry fruits like apricots, walnuts, and pistachios. Following are the Best Dry Fruits That Can Speed Up Your Weight Loss.
1. Almonds (Badam)
Almonds are commonly consumed as dry fruit and it is very low in calories. It has several health benefits and almonds are rich in vitamin E, essential oils, and antioxidants that are highly beneficial for adults and kids. Along with this, it can be eaten in raw, or roasted form. If you want the best results, then eat a daily small quantity of soaked almonds every morning for a healthy and fit body.
Benefits of Almonds:
Keeps your heart healthy
Helps in weight management
Keeps skin and hair healthy
Controls blood sugar levels
2. Pistachios (Pista)
Pistachio is a good choice for those someones who have a habit of constantly eating. It can assist you to feel fuller for longer by suppressing your hunger. This includes carotenes, oleic acid, antioxidants, vitamin E, copper, manganese, potassium, calcium, magnesium, iron, zinc, and selenium, as well as polyphenolic antioxidants. Pistachio is in the shape of a heart and also has anti-inflammatory properties.
Benefits of Pistachios:
• Prevents diabetes
• Boosts immunity
• Helps to reduce weight
3. Cashews (Kaju)
This is also one of the Best Dried Fruits to Add to Your Diet for Weight Loss. Cashews have a delicious flavor and creamy texture. Also, this contains vitamin E, vitamin B6, protein, as well as magnesium for your body. This kidney-shaped seed can support you lose weight, control your blood sugar level, as well as improve your heart health.
Health Benefits of Cashews:
• Supports weight loss
• Reduces bad cholesterol
• Decreases the risk of heart diseases
4. Dates (Khajoor)
Dates are tropical fruits and are high in digestive fibres and help you stay full for a long time. This is one of the Top Dry Fruits To Speed Up Weight Loss.
Health Benefits Of Dates:
• Aids to reduce weight
• Increases hemoglobin levels
• Boosts energy
• Enhances gut health
5. Apricots (Khumani)
Apricots also help you feel full and also providing essential nutrients like vitamin A, vitamin E, magnesium, and copper. This also fights against internal infections.
Health Benefits Of Apricots:
• Good for eyes
• Keeps your bone and skin healthy
• Helps in weight loss
Conclusion
Here to conclude we give you the Best Benefits Of Dry Fruits For Weight Loss. All these dry fruits are good for your health and help in weight loss. We hope, we give you the Amazing Benefits of Dry Fruits for Weight Loss.
Frequently Asked Questions (FAQs)
Question 1. Which dry fruit is good for the fat of the belly?
Answer. Some dry fruits are great for losing belly fat like nuts (almonds, cashews, walnuts, or pistachios), dates, raisins, and so on. They are high in nutrients and antioxidants that make them incredibly healthy and useful for weight loss.
Question 2. What are the Side Effects of Dry Fruits?
Answer. Dry fruits are very high in sugar as well as calories and they can cause problems when eaten extra like gaining weight, and gastric issues, a diabetic can increase his blood sugar. Also, salty nuts can raise blood pressure, constipation, diarrhoea, or flatulence as well.
Top Related Searches