Best Dietitian For Pediatric Nutrition In Chandigarh
Best Dietitian for Pediatric Nutrition in Chandigarh – Proper nutrition is very important for the overall physical as well as mental development of your children. All the parents are very much concerned about the eating habits of their kids. It is very important to make good nutritional choices for your kids throughout their childhood to keep the diseases away from their kids. You may be looking for the best dietitian for pediatric nutrition in Chandigarh.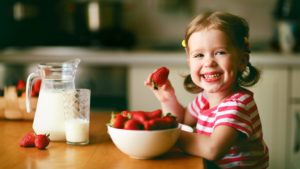 Dietitian Priyanka Mittal is one of the leading dietitians for pediatric nutrition in Chandigarh. She will provide the best diet and eating plan for your children. Her main motive is to analyze the present health condition of the child and suggesting health and nutritional tips for the betterment of their health accordingly. For getting the best health advice for your children, call us at 09779217001 or send us an email at info@dietitianpriyanka.com.
About Pediatric Dietitians
Nutrition plays a vital role in all the stages of childhood development. It is very important that each and every body part of your child grows and functions well. The pediatric dietitians work with the children and their parents by making necessary dietary changes for improving the health of the children. There are many children in India with different health issues like Celiac disease, Colitis, Diabetes, Allergies, and many more diseases. These are the registered dietitians who work to cure any type of illness present in the children by rectifying the diet and eating plans.
Best Nutrition Tips for a Growing Child
Every child needs proper nutrition for his/her proper growth and development. The children require all the nutrients like vitamins, minerals, carbohydrates, protein, and fats. It depends from one child to another that how much nutritional intake is needed for proper growth and development.
Some of the healthy eating tips for your kids are.
Try to make it a habit for your children that they should never skip breakfast. This is the first meal of the day and it should be full of nutrients in order to make your child ready for the whole day activities.
You should choose healthier snacks for your children like fresh fruits, popcorn, unsalted nuts, yogurt, etc.
Encourage your child to drink enough water during the day to maintain hydration in the body.
Try to teach valuable social skills to your children by making it a habit to eat together with the other family members.
Children love colors and you should try to offer your children a colorful snack of different fruits and berries.
Include a daily multi-vitamin in your child's diet.
Power Diet Plan for Children
Always respect your child's appetite and try to serve small portions of food items to them. A sample diet menu for children is mentioned below.
Breakfast – You can offer an omelet, a poached egg, some fruits blended with plain yogurt, raw almonds, whole grain bread slices, one apple, spinach, one glass of milk, etc. in the breakfast.
Lunch – Your children lunch can include the following food items like as chopped carrots, cucumber, nuts, and seed mixes, wholewheat wraps, lean meat cuts like chicken or turkey, fresh fruits, etc.
Dinner – Keep the dinner meal simple like two chapattis with cereals, green vegetables, some amount of rice, and never forget the dairy products in your child's diet.
Role of A Nutritionist for Your Child's Health
Good nutrition is very important for children of all age groups. It is known that unhealthy eating habits may contribute to many diseases. The diseases may include obesity, underweight problem, lack of immunity, growth problems, and many more health issues in your children. A good dietitian or nutritionist will make a proper diet plan for your children and bring positive changes in their eating habits.
Dietitian Priyanka Mittal:

Best Dietitian for Pediatric Nutrition in Chandigarh
Priyanka Mittal is a well-known dietitian for pediatric nutrition in Chandigarh. She is having an experience of 5 years in the Nutrition Solutions Industry. The major dealing areas are Chandigarh, Panchkula, Mohali, and Zirakpur. She makes the right alterations in the diet patterns for fast improvement in the health patterns.
All the above points make her the best dietitian for Pediatric Nutrition in Chandigarh. So, contact her for making your child fit and healthy as your child's well-being is your topmost priority in your life.
Contact Details
Name – Priyanka Mittal
Address – SCO-12, GF, Amcare Plaza, VIP Road, Zirakpur-140603
Phone – 09779217001