Top 10 Dieticians & Nutritionists in Bhopal – Are you searching for top-notch dieticians and nutritionists in Bhopal who can guide you on your journey toward a healthier lifestyle? Look no further! In this blog, we present to you the highly regarded and influential Top 10 Dieticians & Nutritionists in Bhopal. These experts have mastered the art of healthy eating and transformed the lives of numerous individuals through their expertise and personalized approaches.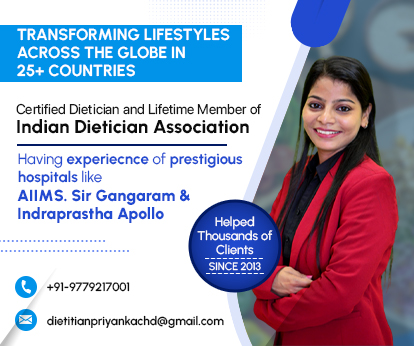 The significance of a balanced diet cannot be overlooked when it comes to achieving optimal health and well-being. With the guidance of these esteemed professionals, you can embark on a transformative path toward better nutrition and overall wellness. Whether you're struggling with weight management, specific dietary concerns, or simply seeking professional advice on leading a healthier lifestyle, the Top Dietitians & Nutritionists in Bhopal are equipped with the knowledge and experience to cater to your unique needs.   
What Is The Role of Dietitians & Nutritionists in health care?
Dietitians and nutritionists play a vital role in healthcare by providing expert guidance and support in matters of nutrition and diet. Their primary objective is to help individuals improve their overall health and well-being through proper nutrition. These professionals possess extensive knowledge about food, nutrients, and their impact on the human body, allowing them to develop personalized diet plans tailored to individual needs and goals. They analyze factors such as dietary habits, medical history, and lifestyle to identify any deficiencies, imbalances, or specific dietary requirements.  
Additionally, dietitians and nutritionists educate and counsel individuals on healthy eating habits. They help clients to make informed choices about their diet, whether it's managing weight, preventing or managing chronic diseases, or addressing food allergies or intolerances,  these experts guide individuals in making appropriate dietary changes to achieve their health goals. Furthermore, they contribute to the comprehensive care of patients, particularly those with medical conditions that require specialized diets or nutritional interventions.  
List Of The Top 10 Dietitians & Nutritionists in Bhopal 
Dietitian Priyanka 
Dietitian Priyanka is your trusted partner in achieving optimal well-being through the power of nutrition. With her expertise and personalized approach, she can guide you toward a sustainable and balanced lifestyle that nourishes both your body and mind. With her in-depth knowledge and experience, she will assess your specific needs, goals, and challenges to create a customized diet plan that suits your lifestyle. Whether you're looking to manage your weight, improve your energy levels, address dietary restrictions, or simply adopt healthier eating habits, Dietitian Priyanka will be your dedicated partner every step of the way. 
Through regular consultations, she will provide ongoing support, motivation, and accountability to ensure you stay on track and achieve lasting results. Invest in your health today and unlock your full potential with Dietitian Priyanka. Take the first step towards a healthier, happier you by scheduling a consultation and start your journey towards a vibrant life filled with nourishment and well-being.  
Contact Details 
Name – Priyanka's Diet Clinic 
Address –
Chandigarh Address:- SCO-1066-67, First Floor, Sector 22B, Chandigarh
Zirkapur Address:- SCO 33 First floor, Apple Height's, VIP Rd, Above More Supermarket, Zirakpur
Phone No. – +919779217001 
Dietician Anju
With years of experience in the field of nutrition, Dietician Anju is known for her compassionate approach towards her clients. She believes in creating sustainable and realistic diet plans that are designed to individual needs, ensuring long-term success in achieving health goals. Her expertise lies in weight management, diabetes management, and promoting overall well-being through balanced nutrition. 
Address: Bittan Market, Metro Plaza, 24- Lower Ground Floor, E-5, Arera Colony, Bhopal
Dr. Vivek Health Clinic
Led by the esteemed Dr. Vivek, the health clinic provides comprehensive healthcare services with a special focus on nutrition. Dr. Vivek believes in the power of a healthy diet in preventing and managing various health conditions. With his extensive medical knowledge and expertise in nutrition, he offers personalized diet plans that complement the overall treatment of patients, helping them achieve optimal health outcomes.
Address: Minal Mall JK Rd Minal Residency, Govindpura, Bhopal
Health Asters 
At Health Asters, a team of dedicated nutritionists works towards transforming lives through proper nutrition and lifestyle modifications. Their approach involves a combination of evidence-based practices and a client-centered approach, ensuring that every individual receives personalized attention. From weight management to sports nutrition, the team at Health Asters is committed to guiding individuals toward sustainable health and wellness.
Address: Shop no. 6 Mahindra Business Square, Bawadiya Kalan, Bhopal
Dietitian Richa Garg 
Dietitian Richa Garg is a passionate advocate for holistic well-being through nutrition. She believes that food is not just fuel but a powerful tool for nourishing the body and mind. With her expertise in therapeutic diets, clinical nutrition, and mindful eating, Dietitian Richa empowers her clients to make informed choices and develop a healthy relationship with food, leading to long-lasting positive changes.
Address: 38, Star Homes E-8 Extention, near Aakriti Ecocity, Bhopal
Dietitian Shriya Srivastava
With a focus on preventive healthcare, Dietitian Shriya Srivastava emphasizes the importance of nutrition in maintaining optimal health. Her approach involves understanding her clients' lifestyles, dietary preferences, and health goals to create personalized diet plans. With her guidance, clients learn how to make healthier choices, achieve weight management, and improve overall well-being.
Address: 69JV+VQ6, Bhadbhada Rd, North TT Nagar, TT Nagar, Bhopal
Dr. Tooba Nasar
Dr. Tooba Nasar is a renowned expert in the field of nutrition and preventive medicine. Her philosophy revolves around the concept of using food as medicine. Dr. Nasar believes in addressing the root cause of health issues through targeted nutritional interventions. Her expertise lies in developing customized meal plans and nutritional strategies that promote healing, boost immunity, and optimize overall health.
Address: House No. 29, Geeta Bhawan, near Dmart, Jahangirabad, Bhopal
Dietitian Annapurna  
Dietitian Annapurna is dedicated to promoting healthy eating habits and nutritional education. With her vast knowledge in the field of dietetics, she designs personalized meal plans that cater to individual needs, taking into account dietary preferences, cultural considerations, and health goals. Her aim is to empower her clients with the knowledge and tools to make informed choices for lifelong health and wellness.
Address: E 1/97, E-1, Arera Colony, Bhopal
Dt. Pranav Rai
Dt. Pranav Rai is a highly regarded dietitian with expertise in sports nutrition and performance enhancement. He works closely with athletes, providing tailored nutrition plans that optimize their performance and recovery. Dt. Pranav focuses on nutrient timing, personalized macronutrient ratios, and supplementation strategies to help individuals reach their athletic goals and excel in their chosen sports.
Address: J-219, Link Road No. 3, Harshavardhan Nagar, Panchsheel Nagar, Bhopal
Nutrition Club
The Nutrition Club is a dynamic community dedicated to promoting healthy eating habits and fostering a culture of wellness. Led by a team of experienced nutritionists, the club offers a range of services, including personalized nutrition counseling, group workshops, and healthy cooking classes. Through their inclusive and supportive environment, the Nutrition Club inspires individuals to make positive changes in their lifestyles and embrace a nourishing approach to health.
Address: 39, Link Road No. 3, Patrakar Colony, Panchsheel Nagar, Bhopal
Conclusion 
Dietitian Priyanka is your trusted partner in achieving optimal health through personalized nutrition guidance. Take the first step towards a healthier lifestyle and unlock your full potential with her expertise.